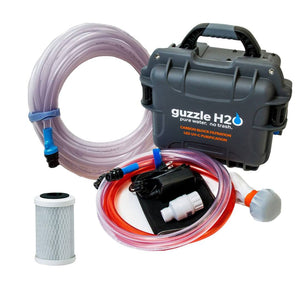 This is the same Stream purification kit except with the longer 30' outlet hose so you can pump further if your vehicle or water tank isn't nearby the water source. It also includes an extra carbon filter.
Stream Specifications:
HIGH FLOW: Max flow rate 1.1 gallons (4L) / min
PROVEN TECHNOLOGY: LED UV-C purification is 3rd party tested to inactivate 99.99% of bacterial, protozoa, and viruses* and is NSF 55 listed
EFFECTIVE FILTRATION: 0.5 micron Activated Carbon Block Filtration is highly effective at reducing sediment, chlorine taste and odor, VOCs, NSF 41 emerging contaminants, lead, mercury, and other chemical contaminants**
LOW COST: Carbon Block filter capacity up to 1000 gallons per cartridge, low cost replacement
HIGH CAPACITY: Rechargeable LiFePO4 battery provides: 32 gallons filtered and purified drinking water @ .75 GPM flow rate (Pumping Mode) 90 gallons filtered and purified drinking water @ 1.1 GPM flow rate (Pressurized Mode)
WIDELY COMPATIBLE: Use with any freshwater source
EFFECTIVE IN SILTY WATER: 1 micron prefilter screens sediment
APPROVED: All components NSF listed or FDA approved materials
WATERPROOF: IP67 inside and out
INCLUDES: Stream unit with long 30' outlet hose kit and charger, pressure regulator for connecting to existing water sources, prefilter to reduce sediment when pumping from natural sources and extra carbon filter.
DIMENSIONS: 12.4" wide x 9.8" tall x 7.9" deep, 12lbs (5.4kg)
*Based on 3rd party testing performed according to the United States EPA Ultraviolet Disinfection Guidance Manual
**Will not remove heavy metals or toxins.
Designed and Assembled in USA
Patent Pending