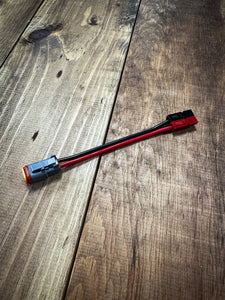 Use this adapter to connect our 20' Planar power cable to a Anderson Powerpole socket.
Please choose the power source from the drop down that matches your application.
IMPORTANT - Custom Option
If your power source isn't one that specifically listed in the drop down, please choose one of the Custom options, making sure to select the correct one.
It's imperative that you select the correct orientation for the Custom option.  Choosing the wrong option could result in damage the heater.  Whatever you do, when plugging in your Anderson Powerpole adapter to your power source, make sure the red connects to red, and black connects to black.
Identifying the correct orientation
When looking at your power source's Anderson Powerpole connection, take note of which side the red connector is on: left or right.  Then take note of where the "tongues" on the housings are located: top or bottom.  With that information, you will know which custom option to select.
Please see the example images below, that shows both a red right tongue top and red left tongue bottom orientation.  These are pretty standard orientations. 
If you are in doubt, please contact customer support and we will help you identify which option you need.