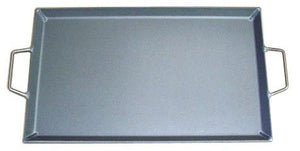 Partner Steel griddles are made from anodized food grade aluminum, and feature a durable, tough coating that makes cleanup easier and promotes even heating.

Their anodized surface means that a steel spatula won't scrape off the finish.
They are rectangular and feature 1 1/4" sloped sides with welded handles on the ends.
Cook Partner camping stove griddles heat rapidly and clean up easily.