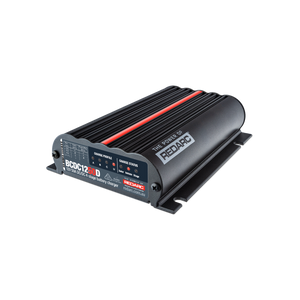 The REDARC BCDC1250D is a 12V, 50A In-vehicle DC to DC Battery Charger designed to keep your auxiliary battery charged when driving or with portable solar panels when parked. It uses multi-stage DC-DC charging, a system that allows optimum charging levels for your auxiliary battery.

Dual Battery Charger with solar input:

The BCDC1250D has been developed to provide a higher current output, it features an additional charging stage known as SoftStart which has been engineered so that it can handle more demanding applications.

Multi-stage charging profile:

Featuring a Maximum Power Point Tracking (MPPT) solar regulator, the BCDC1250D will charge from both solar and the alternator simultaneously. And, with built-in Green Power Priority it will select solar charging first, meaning less load on the alternator.

Suitable for 12 or 24-volt vehicle systems, the unit will also work with either standard or variable/smart alternators.

It is compatible with all common types of batteries used in automotive and recreational vehicles such as AGM, Gel, standard lead acid, Calcium and LiFeP04.

As a guide, the BCDC1250D is used for battery bank sizes over 200AH. For smaller batteries of 75-200AH, REDARC recommends the BCDC1225D.

Built tough for all conditions:

This DC-DC battery charger with solar input has been proven to work in all types of terrains, including deep water crossings, and stands up against extreme heat (up to 176°F). It's fully sealed against the risk of infiltration from water and dust and will hold up to the adventure at hand. It's designed to maximize the performance and life of your auxiliary battery and is suited for battery bank sizes of 200AH and above in most applications.

Made in Australia by REDARC this amazing range has undergone years of testing in some of the harshest conditions on the planet. REDARC has been in business for 40 years and all of our products are made tough enough to take anything nature can throw at them. 
Product Brochure:
Instruction Manual:
Specs:
Output Voltage: 12VDC
Maximum Charging Voltage: 15.3V
Output Current Rating (Cont.): 50A
Input Current (Max.): 9 - 32VDC
Output Power: 750W
Input Fuse Rating: 60A
Output Fuse Rating: 60A
Length (in): 6.50
Width (in): 4.72
Height (in): 1.46
Warranty: 2 Years
Weight (lb): 2.3
Standby Current Draw: <100mA
California residents: see Proposition 65 information