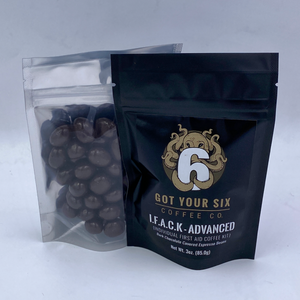 You never know when it's going to happen! When evil is going to strike! You can be having a great day when sudden Grogginess sneaks up on you and tries to rob you of your productivity. Sometimes you just can't have that amazing cup of coffee on you. And to think, some places won't even allow you to enter their premises with one. Can you believe the nerve of some people who are keeping you away from having a productive lifestyle. No worries, we have got your back! Insert IFACK – your Individual First Aid Coffee Kit. 
With our new revolutionary emergency medical kit you will never find yourself caught off guard by Grogginess. We have put together two very essential EDC kits. Both help you and the other productive souls that you surround yourself with.
At Got Your Six Coffee Co we know that you are not sitting out the couch playing video games mooching off your parents refrigerator. You are one of life's productive operators out there in the world making a difference. Our Individual First Aid Coffee Kit (I.F.A.C.K. for short) and our I.F.A.C.K. – Advanced are exactly wait you need for those moments when Grogginess strikes. These kits contain 3 ounces of chocolate covered espresso coffee beans. Both are measured and sealed specifically for you to take on the go. When you can't carry one of our famous cups of coffee, pack your IFACK or IFACK – Advanced and know that your are prepared for whatever life throws at you.