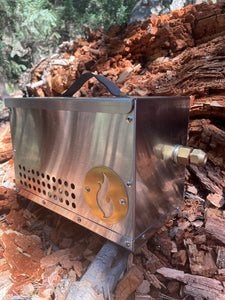 Þú heyrðir það rétt! You heard that right! This stainless-steel wonder hailing from the frozen depths of Iceland is here! The Hekla volcano has been belching fire and magma since 845 A.D. Now you can have a piece of this fantastic belch! The Hekla is full 304 Stainless-Steel including our new stainless-steel burner. It also includes brass fitting and a very luxurious real cowhide handle. This thing is Þetta er feitt!




The Hekla includes:

A Hekla (Duh in Icelandic doesn't translate)

Over/Under Grill Thingy

12 Hades Stones (colors may vary)

20psi hose and regulator

Goodie Bag with BBQ lighter

Instructions

A direct flight on the Bifrost. Happy transcending!

What's not included:

Propane Tank

1lb tank adapter

Thor's hammer, Mjölnir. You couldn't pick it up anyway.
Gota whole lotta flame
In the age of more and more burn bans having something that can provide heat and the ambiance of a camp fire becomes more important (for us at least). My family has enjoyed the Hekla when traditional campfires are not available or not practical. The build quality is top notch, Lavabox customer service was top notch and Overland Addict cusomtper service was top notch. All the way around this was a great buying experience all the way from purchase to first use of the product!