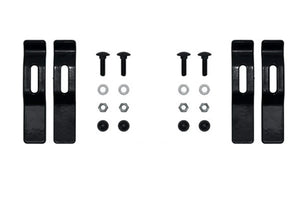 The Universal Clamp Kit is designed to be used WITH one of the standard mounts (Medium Case Mount, Large Case Mount, Saddle Case Mount) to attach to tubular roof racks and baskets. 
Use Vehicle Mounting Kits for your Pelican™ Cargo cases to expand your storage possibilities. Whatever your cargo needs are - PELICAN has a solution for truck beds and roof racks.
Mounting kits are available for Ford™ Toyota™, Chevrolet™, Jeep™, Ram™ and other vehicles. No drilling required. Locks to vehicle securely with a TSA, cable lock or padlock (not included) on one or both sides of case.
MADE IN THE USA 🇺🇸
We never received our money back
We spoke with the people and they had advertised a picture of the wrong part . They sent RMA AND WE RETURNED AND STILL HAVE NOT REFUNDEDNOUR MONEY !!